Gold Investing Made Simple
Hello and welcome to Gold Investing Simplified for 2018. If you are just starting out on your gold investments or simply want to find out more about buying/selling gold coins, you will find helpful information on this site and in my Popular Gold Coins video.
Investing in gold can get confusing but it doesn't have to be that way. My mission is to provide you with information that can help you with your gold investment decisions. Just keep in mind that only you can decide if investing in gold is right for you. I take no responsibility for whatever gold purchases you decide to make.
You won't find a sales pitch
for buying gold from me here since I no longer sell precious metals. I want you to benefit from my experience in selling gold and silver coins for one of the oldest, most reputable precious metal dealers in the USA.
Is 2018 The Breakout Year For Gold?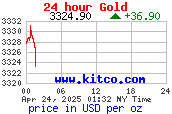 No one can say for sure. But gold did manage to make a decent gain in 2017, ending the year at $1302.50 for a gain of $144.80 (12.51%) for the year. The high for gold in 2017 was $1348.60 and the low was $1150.90. Considering the powerful sources at work dedicated to keeping the gold price low (and therefore unattractive to the investing public), this is a small victory. Many gold experts say gold prices have much further to go from the current

spot gold price

seen at right.

If you have been keeping track of gold prices, especially since gold ownership was again allowed for U.S. citizens in the mid 70's, you know it has been quite a bumpy ride. In 1980 gold spiked up to $850 per ounce before beginning a long trend down. In 2011 gold flirted with $1900 before dropping back in consolidation. There are no sure things in life but having a small portion of your total assets in gold continues to be a recommendation of a number of financial analysts.

More Gold Investment Articles To Follow

If you are presently a gold investor or soon-to-be investor, come back again. I have more articles planned for the future. My goal is to make this site and its sister site,
Silver Investing Simplified
, to be among the most useful
Gold & Silver investing
sites on the Internet.
Copyright © 2008-2018 GoldInvestingSimplified.com